How do I sign-up to get my library notices by text?
Step 1
Go to the My Account link on our website or catalog
Enter your library barcode number from the back of your library card
Enter your PIN, which is typically the last 4 digits of your telephone number
Press the Log in button
Step 2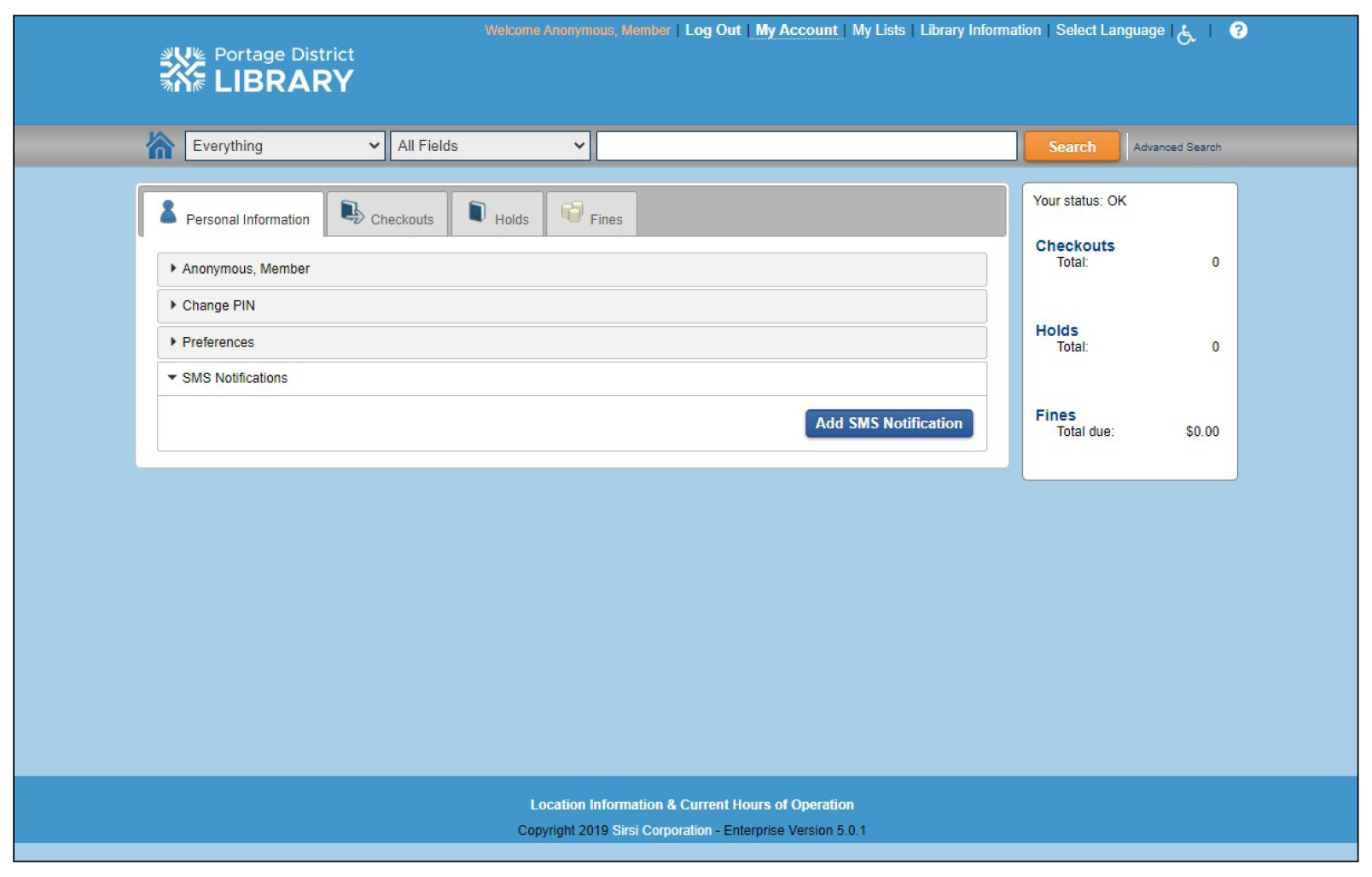 Navigate to the Personal Information tab in your account
Select the line titled "SMS Notifications"
Press the Add SMS Notifications button
Step 3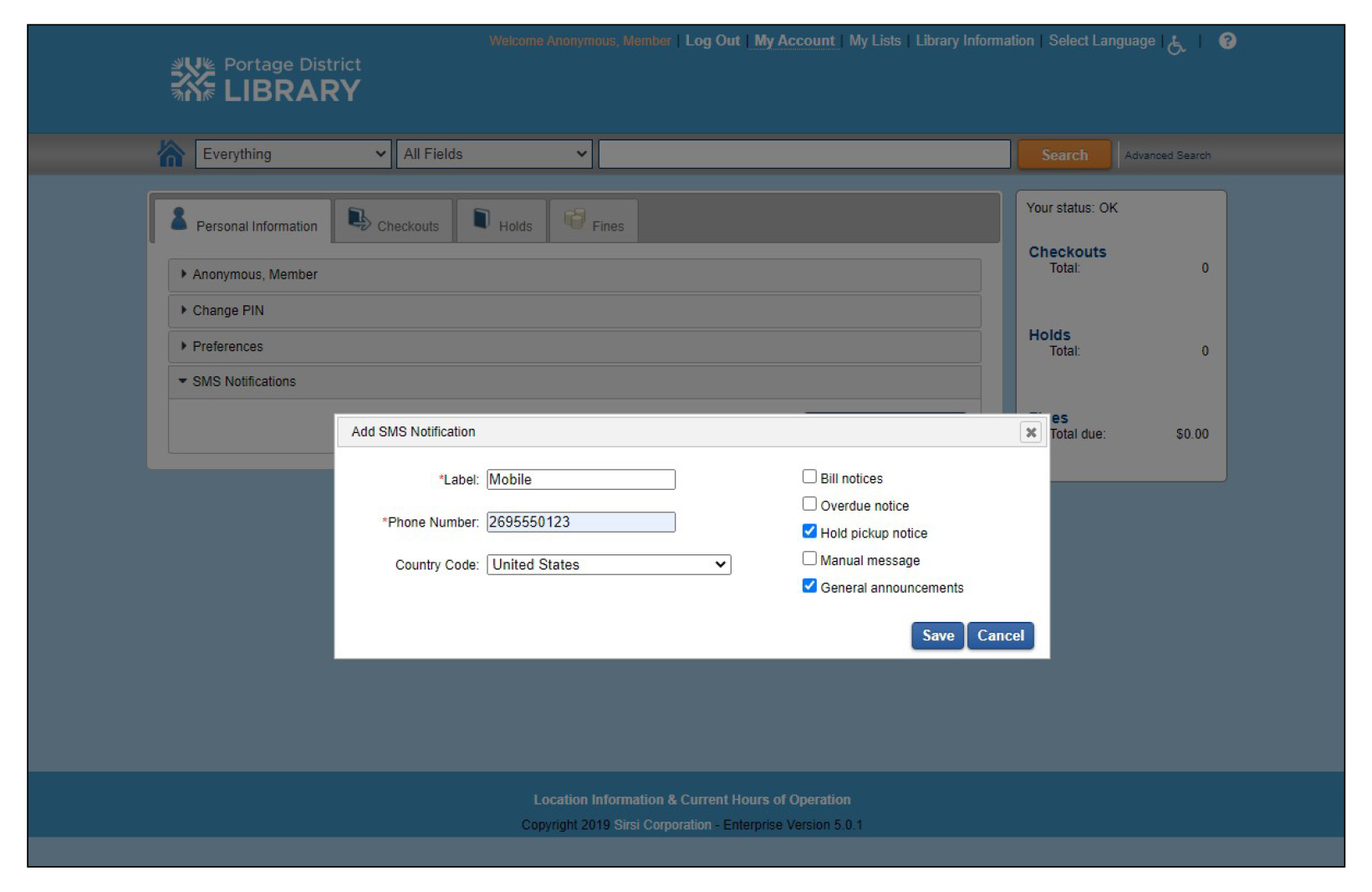 Enter a label, such as "mobile" in the space provided
Enter your mobile phone number, including area code; no punctuation or spaces are needed
Select the types of notices you want to receive as text messages; see descriptions below
Press the Save button
Step 4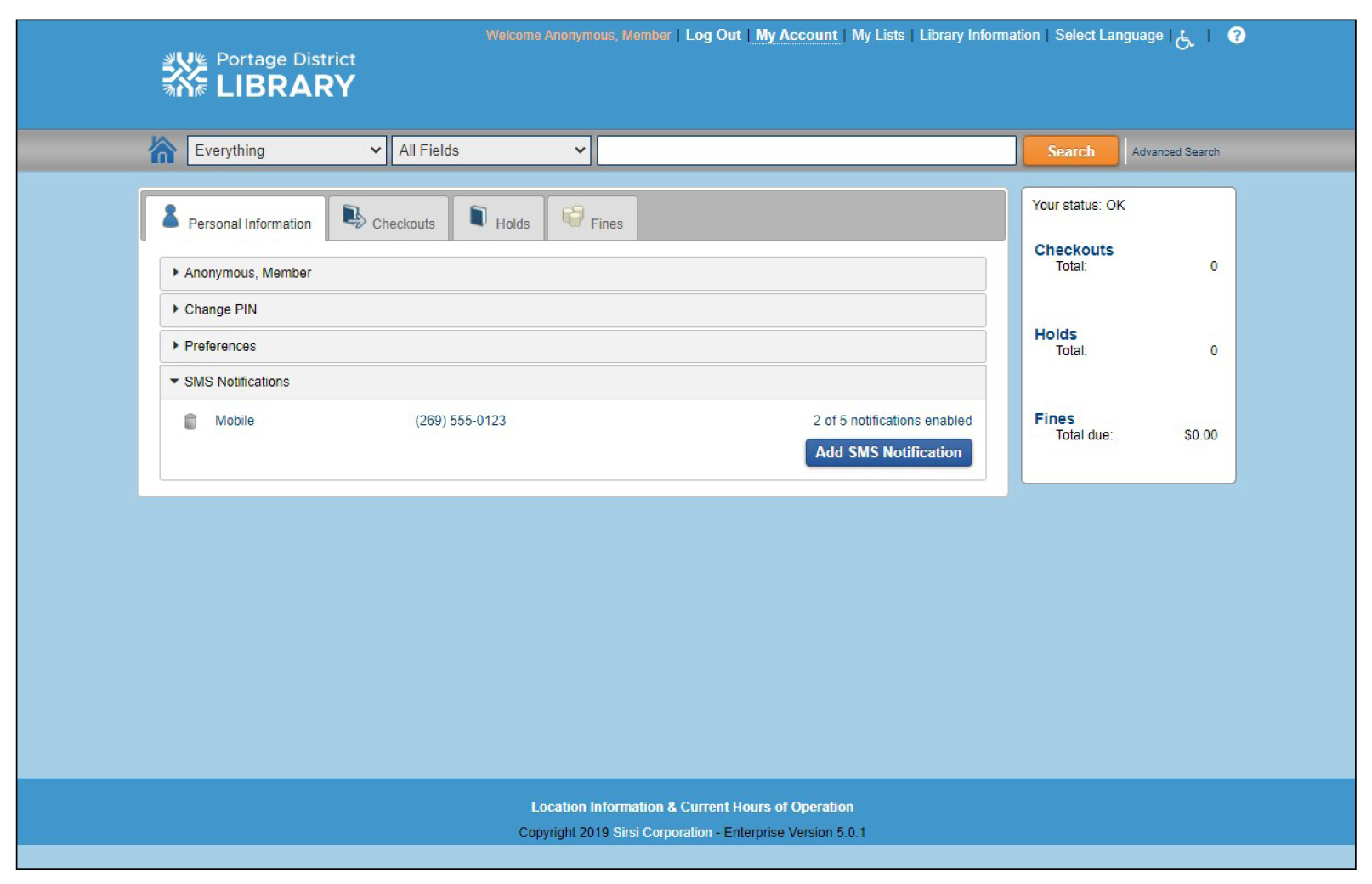 The next time we need to send you any notice of the type(s) you selected, they will come to the mobile number you have provided.
You can change your mobile number, make changes to the notice selections or remove them at any time.
You can also choose to add a second number to receive your notices.
If you need assistance, contact the Checkout Desk at 269-329-4544, option #3 during our hours of operation.
Bill Notices:

non-returned or damaged item billed to your account, long overdue MeLCat item, incomplete return, or outstanding non-resident membership balance

Overdue Notices:

update of automatically renewed items, reminder of items due in two days, items overdue by 7, 14, and 21 days

Hold Pickup Notices:

your requested items that have become available and will be on hold for 7 days

Manual Message:

We do not have any current plans to use this type of message. It would allow a library manager to send a direct, custom text message to a specific member.

General Announcement:

membership renewal reminders to prevent a lapse in access to services and important membership update notices

Will texts give me title information?

Our text messages are limited to 160 characters, so notices will not include a name, specific title or due date information.  You will need to log in to your account to view that detail.

Will I be charged for choosing SMS notification?

The library is charged by our service provider per message we send to you. Depending on your service plan, you may be charged by your service provider to receive text messages from us.

Will all of my notices come via text?

Only the types of notices you choose will arrive via text. Notice types that are not selected for SMS will continue to be delivered only as email or print. Some important account notifications are always sent in print.

What if I stop receiving my notices?

These notices are sent automatically, so we may be unaware that you have stopped receiving expected messages. Stop at the Checkout Desk during your next visit or give us a call to let us know, so we can verify that we have your correct information and troubleshoot any problems.

What if I need to add or change an email address for my other notices?

If you have not previously provided an email address, you can only add that to your account or change it by stopping at the Checkout Desk during your next visit.