​***Native seeds will be made available starting December 1, 2023. To avoid the rush that we experienced in the spring, we will not put all available seeds out at all at once. Our aim is to maintain continuous availability of a variety of species until our stock is depleted or replenished by further donations. We are so excited about the enthusiasm for native plants! Due to the amount of time and resources required to maintain the Seed Library, please only take what you will plant this season.
-Quyen Edwards, PDL Seed Library Coordinator
About the Seed Library
Launched in May 2021, our seed library provides free seeds for the use of our community. You do not need to have a Portage District Library card to participate. Please only take what you can plant and consider "returning" seeds to the seed library for others to borrow by saving seeds, donating commercially purchased seeds, or making a monetary donation to support this service.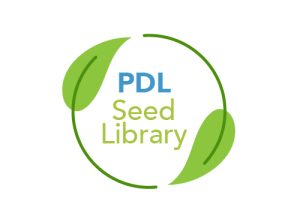 Seeds are located in the large green card catalog between the Heritage Room and the Makerspace on the main level.
Browse our selection of seeds from home and use the inventory list as a guide for when you come into the library to select your seeds. The inventory is updated frequently, but we can't guarantee that everything listed will be available at the time of your visit.
Some plants can cause negative or adverse reactions in humans or animals. It is your responsibility to educate yourself about the plants you are considering adding to your landscaping. Please check Poisonous and Nonpoisonous Plants, ASPCA  for a guide to toxic plants.
Books
New to seed-saving or gardening? Interested in learning more about growing native plants? Stop by the library, browse our collection of gardening books, or check out the links above for all your seed-y resources!

Native Plants
Vegetable Gardening
Sponsors
We are grateful for donations from Community Members, Kalamazoo Area Wild Ones, and seeds collected from the PDL Monarch Waystation.